I just bought a new printer specifically searching for one that is toner refill friendly. After reading on this site that the Brother MFC-9340CDW would be a good candidate, I went for it.

The printer is, all in all, great. It does duplex printing and has a duplex ADF; not that I need that one, I'm using a ScanSnap S1500M for page scanning; yet it is good to know to have a flatbed scanner. The printer works very well with MacOS.
Now, the above mentioned website shows a way to reset the toner counter by moving a plastic wheel on the cartridges. I've not had to do that so far, as I have printed only a couple pages with it. But I thought, there should be an easier way to reset the toner counter.
Here is how it works:
First, get to the home screen. If you are stuck at a "Toner Low" or "Replace Toner" message, just press the red X.
Press the Fax button on the touch screen so that you can locate the asterisk key. Hover your finger over it, without actually pressing the key.
Press the home button to get to the home screen.
Open the top as if you wanted to replace toner; it is sufficient to open it just a little.
Now, as your finger was still hovering over where the asterisk key would be, with the top open, now press and hold the asterisk key for something like 10 seconds.
The Reset Toner screen will show up, from where you can reset any or all counters.
When done, just close the top and wait for the printer to finish its test routine.
Here is where you press the Fax Button: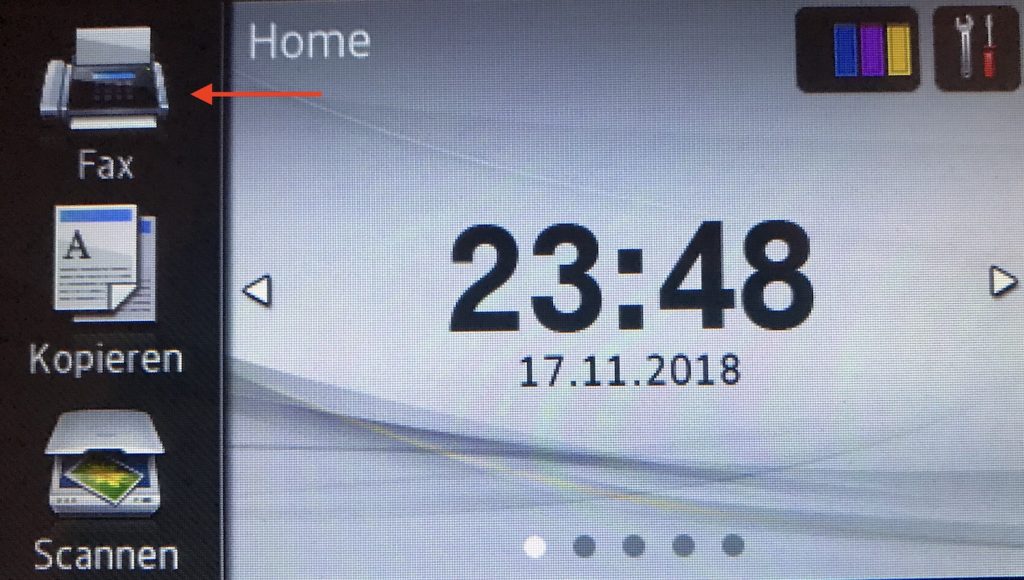 Here is the location of the Asterisk Key:

Here is how the reset toner menu looks: